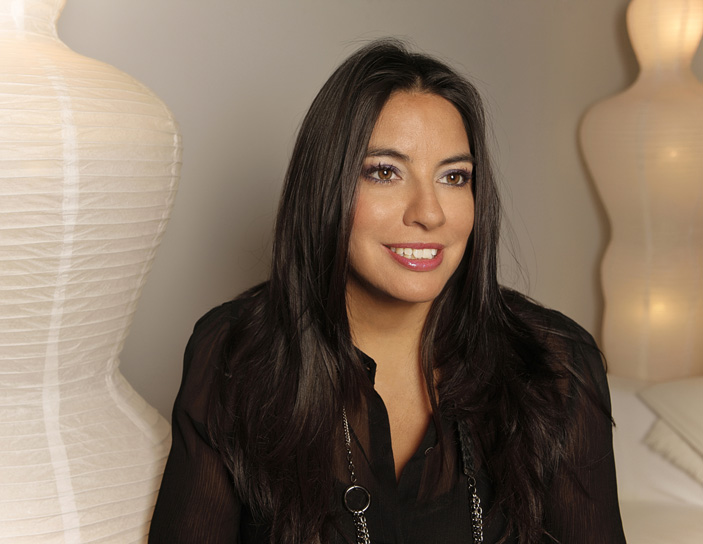 Débora Velásquez was born in Buenos Aires, capital of Argentina. In 2001, she comes to Brussels, where she starts to study fashion design and creation of hats. Since the beginning, her collections are showed at many fashion shows and exhibitions in Brussels.
She also studies Lectra, software for design and creation of clothes by computer, which is used by the biggest textil marks of the world. Since 2007, she works as assistant of creation and launching of different models for important Belgian and French marks like Inno, E5 Mode, etc.
She also makes a course of one year about the use of the colors, the relooking and dress style. She can so recommend of the best way which silk, the clothes, forms and colors to use and the function of the characteristics (the color of the eyes and of the hair, complexion of the skin and body shapes) of her customers.
In 2008, she finally accomplishes her dream. She opens her workshop and showroom, a magic space in which she designs and creates but especially dresses and makes her customers content with dresses of party, cocktail and wedding for women of any size. She also advises her customers about the harmony among the colors, the clothes, the style, the make-up, the accessories, etc, everything according to the personality of each ones.
Her ambition: to value the current women by making them elegant and well-trained with her creations on measure.
The silk, the hand embroideries, the most beautiful clothes, the transparency, the accessories, etc, everything is there to delight you.
Independent, creative and always optimistic, Débora Velásquez realizes her creations with a lot of character. Her clothes give the good mood, the colors, the elegancy, the game and, all of this, the positivism.